Former Sales and Marketing Manager for Olam Spices and current CEO of AtSource, Roel Van Poppel, explains his passion behind a platform that he believes is a game changer for sustainability…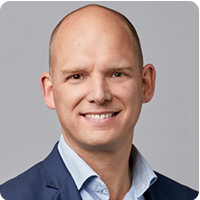 When one of your global flavour customers tells you, "AtSource is arguably one of the most advanced sustainability frameworks I have come across", you know you're doing something right.
As the lead of AtSource – Olam's sustainable sourcing platform to help customers bring about change on the ground and meet many social and environmental targets from field to factory gate - this makes me even more inspired to spread the word on the difference AtSource can make.
I honestly believe it might have the potential to become the Google for driving sustainability in food supply chains. By using technology to embed key values like transparency and driving impact, it can fundamentally change the way our whole industry operates. It embodies - and indeed was born from - Olam's purpose to re-imagine global agriculture and food systems.
But let's rewind to where the journey of AtSource began…

Back in April 2017, when I was responsible for the global sales and marketing of Olam's spices business, I was part of a team of colleagues tasked by our CEO Sunny Verghese to develop a digital platform that connected our customers to our sustainability work. During the testing phase, which started in May 2018, spices were an ideal product category to bring on to the platform; being relatively new to the world of sustainability meant that AtSource could offer these customers something they never had access to before, nor expected. By comparison, products like cocoa and coffee were already in the consumer spotlight, with a lot of sophisticated programmes running in origin aligned with specific and stringent customer requirements.
Equally, companies will be at varying stages of their sustainability journeys, which is why we developed the tiered model for AtSource, so customers can select from Entry, AtSource+ or AtSource∞ depending on their capacity and ambition, they can even choose different tiers for different products.
For companies relatively new to this area, Entry level helps them understand where to focus their efforts to improve sustainability performance, while for those who know what difference they want to make but want to get their faster, AtSource Plus draws on primary data to give them meaningful insight on the environmental footprint of their products and social conditions from farm through logistics and processing, to inform and measure interventions on the ground.
At the top tier AtSource Infinity, is the flagship offer with a goal of landscape level transformation at scale, appealing to companies with a mature understanding of pathways to change and with leadership aspirations.
So fast-forwarding two years from launch to the present, we're beginning to see what AtSource means to the industry. Even for those sectors with a high level of CR&S maturity, the ability to track the social and environmental footprint of your ingredients from the farm, right up to our customers' doorsteps has been regarded as a game-changer in the sustainability stakes. Customers tell me they've never seen anything so comprehensive and granular. And that's because the uniqueness of AtSource is predicated on Olam's extensive social and environmental expertise, and direct presence in origin with 'boots on the ground'.
But delivering this level of transparency requires data; the beating heart of AtSource. Our 'boots on the ground' are collating economic, social and environmental data - broken down into carbon, water, land-use, access to education, farmer training – and over 150 other metrics that matter to inform, monitor and drive impact. I don't believe any other company sits on the amount of data that we do, or is able to generate it from their supply chains – which is down to Olam's involvement in all or a large part of these across our businesses.
Over time, we can use 'trend data' to show customers where the needle is moving and equally, pinpoint where and what further interventions are needed. For instance, we might see that crop production support has translated into higher yields for a particular group of cashew farmers in Côte d'Ivoire, but that only 50 percent of households have access to clean drinking water. Our customers would then have the opportunity to work with us to improve sanitation in that community, whilst also delivering against their own sustainability goals.
The challenge however, was to come up with a sustainability solution that's relevant to all 25,200 of our customers and to all of our numerous supply chains. So while a company sourcing hazelnuts from Turkey will want assurance on good labour-practices; for onion buyers in the US, water consumption will be a bigger concern. The answer lay – as it so often does - in simplifying the complex; with a customisable set of metrics – including core metrics on water use and healthcare, as well as more specific ones like food security - so customers can understand and act on the sustainability issues that matter to them.
This customisation also takes my ambitions for AtSource beyond Olam. A recent trip to Gabon – where Olam operates an infrastructure joint venture with the government – made me realise that external parties like governments, Olam's peers, and of course customers, could potentially use AtSource to drive and quantify progress on sustainability targets by themselves.
The novel aspects of the platform – transparency across metrics that matter, footprint calculations, bespoke action plans, and consumer-ready narratives – mean we have a huge window of opportunity for rolling it out. There is a sense of urgency to act on this though because the advantage we have with AtSource won't last forever.
The platform really is a digital tree of real-life data and insight with the potential to drive impact for any of our customers around the world, and I'm excited to develop its growth and potential new branches.