Vietnamese coffee farmers working with Olam have seen water consumption on their farms drop by 33% following the installation in 2016 of six pilot irrigation systems – and contributing to a significant drop in production costs.
The dramatic results of the water-saving initiative are part of a broader sustainability programme that embraces 1,245 smallholder coffee farmers in Dak Lak province.
The farmers have been trained over several years on irrigation management during dry seasons. The six pilot systems installed by Olam allow them to determine the best irrigation method for their farms from both an economic and environmental perspective, while having the assurance of a water supply during dry season. Post-training, most farmers now have good control over the volume of water for irrigation, using around 400 – 420 liters each round, from 600 – 650 liters before intervention.
Crucially, they no longer think of water as an inexhaustible resource like before and are actively conserving water for their families and the community.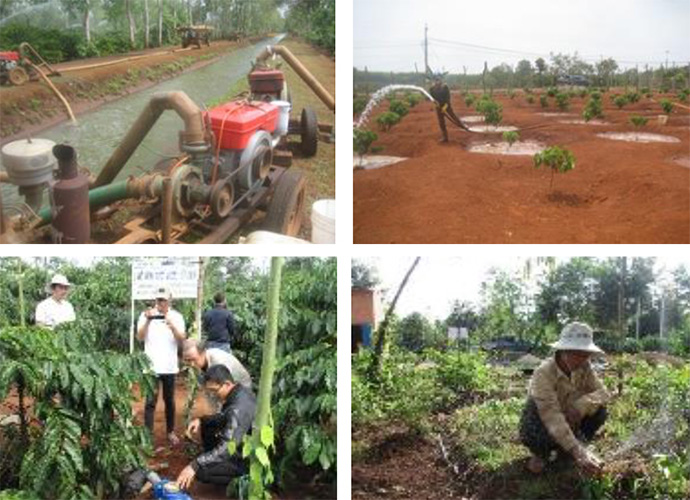 The Spartial Sprinkler Irrigation Systems (SSIS) installed and running on a demo farm plot belonging to Mr. Nguyen Van Dong, EaPok commune, CuMgar District, Dak Lak province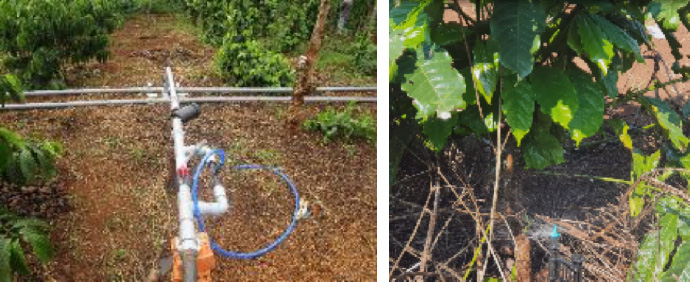 A closer look at the SSIS, which waters the coffee plants in a consistent and more targeted and therefore more efficient manner (R), compared to the traditional way (L)
Mr. Tran Danh Khanh, Economic Expert, said:
"The important factors in getting farmers' buy-in to these initiatives are the tangible results and impact on their livelihoods. In 2017 and 2018, their production costs fell by 6% and 9% respectively, on the more prudent use of water resources and fertiliser."
Over the next five years, Olam aims to reach 500 additional farmers in Vietnam and two more locations under this programme.
Mr. Le Si Du, Project Assistant, added:
"Our aim is to help farmers optimise the use of agri-inputs overall to ensure that we improve the economic and environmental resilience of coffee farmers in our supply chains."